COMMISSION FLOW WEBSITE PROJECT
An example of our website design and development work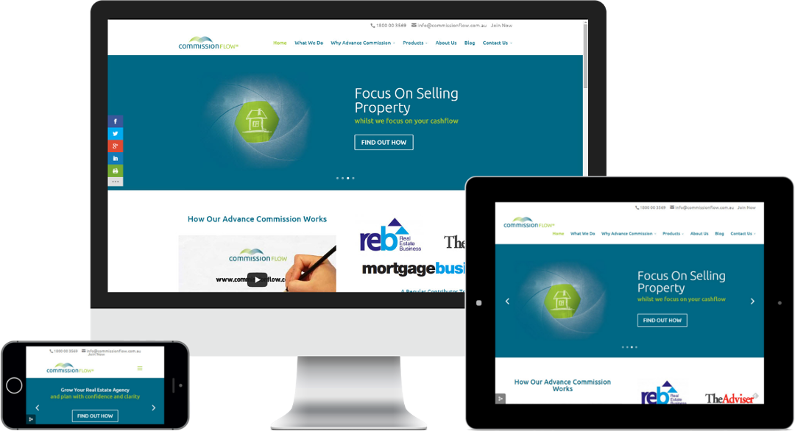 PROJECT: WEBSITE DESIGN AND WEBSITE DEVELOPMENT
This website design project required us to rebuild the Commission Flow website as the WordPress core, theme and plugins hadn't been updated for a long period of time.
We were doing some other work for Commission Flow and they asked us to build a new landing page for their Google AdWords campaigns.
Once we got into the back-end of the website we noticed that nothing had been updated for a long period of time. If you don't have your WordPress website, your plugins, and your theme updated, it can leave your site vulnerable to hackers.
The site was highly customised and wasn't using a Child Theme. What this meant was if we updated the site there was a good chance it would break. We contacted the old developers and they said they didn't save any records of what files were edited. We had no way of updating the old website without potentially breaking it.
We downloaded a copy of the website, set it up on a private server, ran the updates and it did in fact break.
This was discussed with our client and it was decided the amount of time it would have taken finding the altered code was better spent on rebuilding the site.
We went ahead and built a new site that was also customised, but we set up a Child Theme the site could be updated in the future without breaking their website.
The new site was built on a subdomain on one of our websites so their website wouldn't be offline for an extended period of time.
We got our client to go over the new site on the subdomain to make sure they were happy with everything.
Once we got the go ahead we pulled down the old website and put the new one up. This was done overnight to ensure there was a minimum amount of disruption and downtime.
We were then able to build their new landing page for their online marketing campaigns.
Since then we have continued to run their maintenance and backups for the website. We have also set up variants of the landing pages so we can run A/B split tests so we can increase their conversion rates and increase the ROI on the online marketing campaigns.
Additionally we look after their direct mail, printing, online marketing, copywriting, and assist them with their strategic marketing campaigns.
Website design and development
Copywriting
Photoshop
Google accounts linking
Google+ page
Google AdWords set up
Social Media
GOOGLE ADWORDS CAMPAIGNS SET UP
NEED SOME HELP WITH A FUTURE WEBSITE DESIGN PROJECT?
Are you thinking of getting a new website? Is your old one looking dated and doesn't meet Google's Mobile Responsive guidelines?
If you would like to receive the type of service we described above give us a call on 02 4306 0583 or click below to send through your details.
MORE EXAMPLES OF OUR WORK