PLASTIC WRAPPING JOB
An example of our work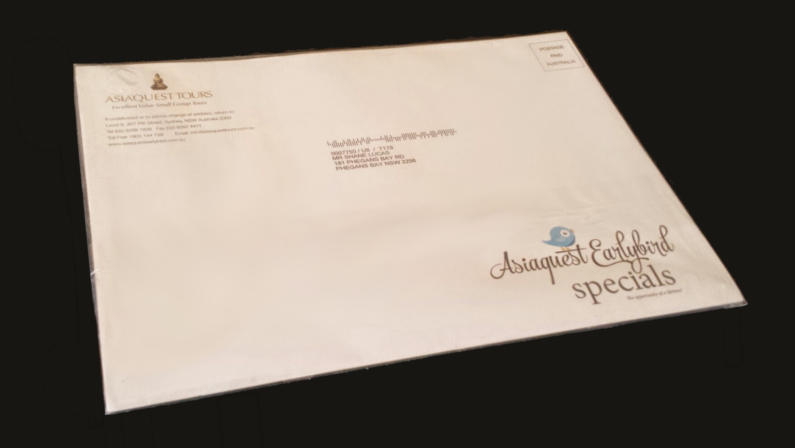 PROJECT: MAGAZINE PLASTIC WRAPPING MACHINE
For this project our client required the use of a magazine plastic wrapping machine to plastic wrap a promotional publication and flysheet. The flysheet had the addressing printed on it and we lodged it with Australia Post on their account.
The job started with cleaning the database to remove duplications. We ran the database through a software package that gives us a barcode for Australia Post. The software also sorts the database so it can be printed in a certain order. This allows us to sort the database into suburb and localities.
We then used a high speed inkjet printer to print the addressing on the flysheets.
The flysheets are placed on the magazine plastic wrapping machine along with the publication. The machine then wraps the flysheet and publication. It then trims the plastic and seals the package.
The conveyor belt on the magazine plastic wrapping machine sends the mail pieces to our staff who placed them in their delivery trays ready for Australia Post to pick them up.
On this mail out we were able to save our client $2722.50 by advising them on the best way to lodge their mail.
On the last mail out before this one we were able to save them over $2500 on postage as well by advising them on a different way to lodge their mail. To find out if you are getting the best rates for your postage costs give us a call on 02 4306 0583.
TESTIMONIAL
Over the last 2 years Asiaquest Tours has used the services of Fuel Group to mail out our Early Bird Brochures.
Their service has been simply excellent on both occasions from the very beginning in sorting out our database to the very end.
Their quote is spot on, timely and very cost effective.
Shane Lucas ( our rep ) has been very helpful and thoroughly professional, always going beyond the scope of the job. I cannot recommend the company and Shane highly enough.
Yours sincerely
Jim  Yalizis
Database management
High speed inkjet printing
Aust Post management
NEED SOME HELP WITH A FUTURE MAIL OUT?
Do you have a mail out that requires a magazine plastic wrapping machine coming up that you would like some assistance with?
If you get us involved at the conception stage, there is a good chance that we can help you increase your ROI.
If you would like to receive the type of service we described above give us a call on 02 4306 0583 or click below to send through your details.
MORE EXAMPLES OF OUR WORK