CATALOGUE DISTRIBUTION CAMPAIGN
An example of our work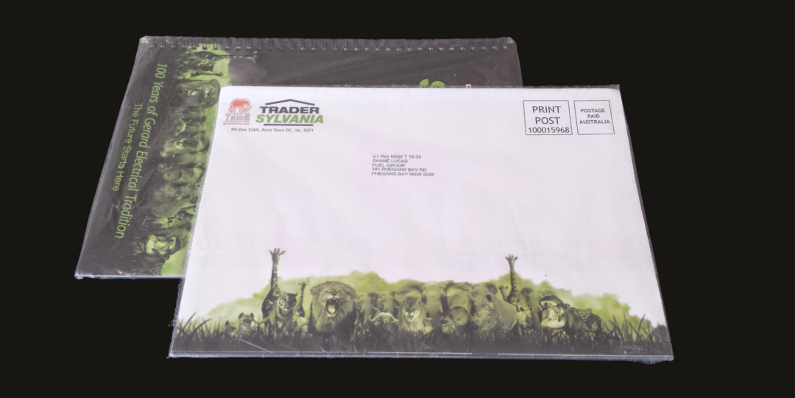 PROJECT: PLASTIC WRAP AND CATALOGUE DISTRIBUTION CAMPAIGN
For this project our client needed a mail house to do a catalogue distribution campaign. The job consisted of two databases and two streams with different material to be sent to them. Both databases used the same publication and flysheets. It was just the additional insert that was different. As the databases contained different types of customers, retail and trade, the message we printed on the insert letter was different.
The client had already sourced a printer and had the catalogues printed and delivered to us. We organised to have the flysheets and the insert letters offset printed. They were both printed on 100gms laserbond and were full colour. The flysheets were single sided print and the insert letter was double sided print.
We noticed that they utilised QR codes in the catalogue and on the letter as well. We went and tested a few for them to make sure they all worked. When ever we see things like this we will always test to make sure all works as it should. It isn't something we charge for, but just part of the service we provide.
When we received the database we ran it through our software to clean the database by removing any duplicates and any incomplete addresses. The software also applies the barcoding that is needed by Australia Post and also sorts the addresses into the print order.
We then used a high-speed inkjet printer to print the addressing on the flysheets.
Once addressing was completed the flysheets were sent to the magazine plastic wrapping machine were the flysheets, insert letters and catalogues were plastic wrapped, trimmed and sorted into the delivery trays.
The delivery trays are then placed into the cages, stacked, ready for pick up by Australia Post. Once Australia Post arrives the cages are placed on truck via a forklift. The mail is then delivered to the  local mail centre for processing.
On completion of the job, the left over materials were sent back to the client.
The catalogue distribution campaign ran smoothly and both streams were lodged on time.
Offset Printing
Database management
High speed inkjet printing
Australia Post management
NEED SOME HELP WITH A FUTURE MAIL OUT?
Do you have a mail out coming up that you would like some assistance with? If you get us involved at the conception stage, there is a good chance that we can help you increase your ROI.
If you would like to receive the type of service we described above give us a call on 02 4306 0583 or click below to send through your details.
MORE EXAMPLES OF OUR WORK