In this post we go over how to do a mail merge using Word 2013 and Excel 2013.
While we do project manage and process large-scale direct mail campaigns for our clients, some of them also do smaller campaigns in-house. We have had a couple of clients that we do large-scale direct mail campaigns ask how to do this. So here you go guys, this is a quick tutorial video that goes for just over 6 minutes that shows you how to do a mail merge using Word 2013 and Excel 2013.
At the bottom of this post we will provide you with a link for the Excel 2013 document we used and the Word 2013 document we used. These doc's are obviously to be used as templates only.
TUTORIAL VIDEO HOW TO DO A MAIL MERGE USING WORD 2013
TIPS FOR DOING A MAIL MERGE USING WORD 2013
When I do a mail merge I highlight the variable data fields in red. If red isn't your colour, you can pick your own colour of course. I just find it much easier to find the words that will be marked as variable if they are in a different colour. You just have to remember to change the text in the template from the coloured text back to black text before you do the last step. To do that, all you have to do is highlight all the text on the page, (left click and scroll over all of the text), click on the home tab in Word, and then choose the colour black. We highlight this in the tutorial video above, so you shouldn't miss it. You will also notice in the screenshots below we have the variable areas in red so you can see the change in the data easily.
If the mail merge document is a direct mail marketing piece use their name and other data throughout. Remember the most important word to most people is their name. If you have it, use it.
Tailor the direct mail piece on the data you have available. If you are a car dealer and you know the car you sold them is red, and you are sending them a letter about getting it serviced, mention it in the mail piece. The more you personalise a letter the more success you will have.
SCREENSHOTS OF THE MAIL MERGE WORD 2013 DOCUMENTS
Here is a screenshot of the Word 2013 document before the final step is taken.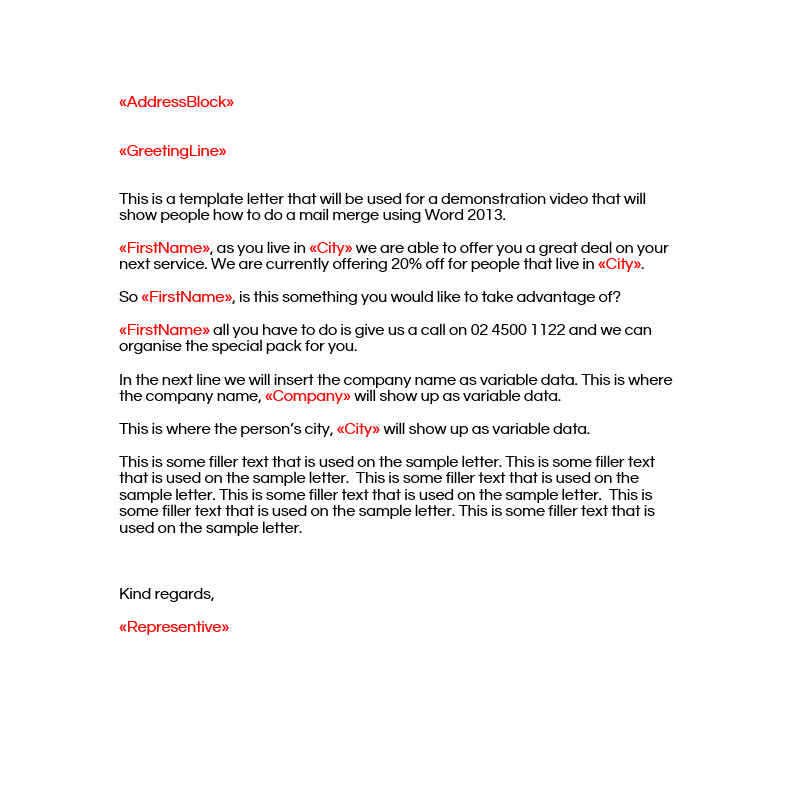 Here is a screenshot of the Word 2013 document after the merge takes place.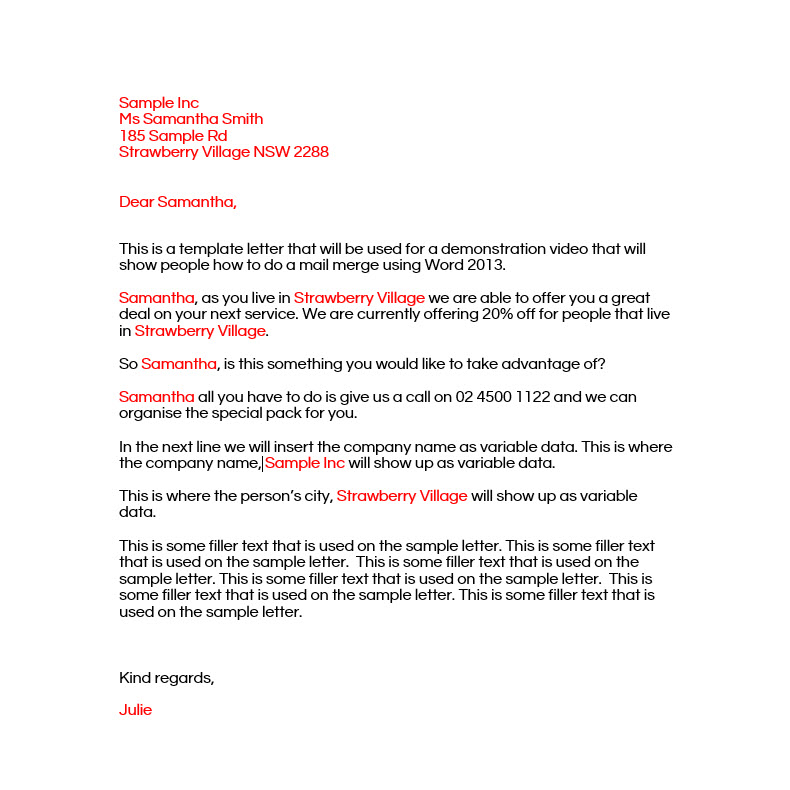 WORD 2013 AND EXCEL 2013 TEMPLATE FILES FOR MAIL MERGE
Here are the template files if you wish to download them.
NEED HELP WITH A LARGE DIRECT MAIL CAMPAIGN?
We specialise in helping businesses getting the most out of their direct mail campaigns. Our mail house services division can help you with the whole process. From the planning stage, to printing your envelopes, brochures and printing anything else that may be mailed out, to the fulfillment process and lodging your mail with Australia Post. If you would like to know, more give us a call on 02 4306 0583 or click here to go to our contact page where you can send through your details and we will get back to you as soon as we can.
FINAL NOTE ON HOW TO DO A MAIL MERGE
Good luck with your mail merging, we hope you have gained the necessary knowledge and know how from our video and the additional information we have provided. If there are any questions you have let us know in the comments below.
Now onto you. Have you ever sent out direct mail that has been personalised using mail merges? How did it go? Did you get better results than non-personalised mail outs?
If you do a mail merge after seeing this tutorial come back and let us know how it went.