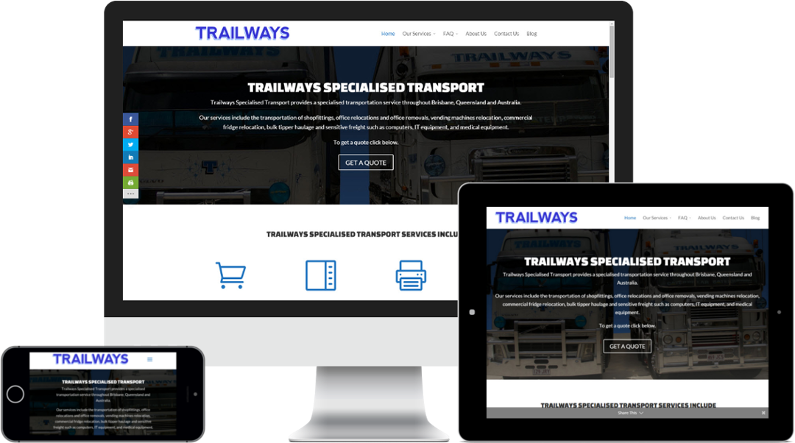 At Fuel Group we build websites that are modern, elegant, mobile optimised, user friendly, easy to manage, and most of all they convert visitors into customers.
If you would like to talk to us to see how we can help you get the most out of your online presence click below and send through your details.
WHAT OUR WEBSITE DESIGN TEAM DO TO HELP YOUR BUSINESS
Fuel Group provides a website design and website development service to businesses throughout Sydney, the Central Coast and Newcastle.
We specialise in designing and developing websites for small businesses and local businesses.
Our websites are built to engage prospective customers to contact you directly so you can drive foot traffic, make sales, capture leads and generate inbound phone calls.
Your website should be elegant, easy to navigate, user friendly and should focus on your call to action so you can maximise your return on investment.
It all starts with a vision and an idea. What do you want your website to do? To sell your products and motivate purchases online, to drive traffic to your brick and mortar store, to capture leads, to promote a newsletter sign up, or to initiate a phone call to book an appointment or reservation.
Once we know what the primary goal of your site is we can then go about designing your site to accomplish your business goals. When you work with us, you will receive a consultative approach to ensure the website meets your goals.
We start with a meeting where we go over your vision for the site. What it is you want it to do, what things you like, what you don't like, and the general design process. The next step in the website design phase is to organise your site structure. We will help you organise and categorise your services so they can be found easily throughout the website and the navigation bar.
Once the design layout is finalised the website development phase is started. It generally takes 1-2 weeks to have a website built once copy and images have been finalised. Once your site is built we then go about promoting your website online and offline so that you can start getting a return on your investment as quickly as possible.
WHAT YOU GET WITH A FUEL GROUP WEBSITE
FAST, ELEGANT AND USER FRIENDLY
Our websites are designed with focusing on usability, fast load times, and a distinct call to action. Load times are a huge factor as today people are accessing the internet on the go from their smartphones. If your website is slow to load your prospective customers will close it before you get a chance to show them your services. You want to make sure your site loads quickly. Our websites are also designed with the end user in mind. We ensure the websites are easy to navigate, clutter free, easy on the eye with a distinct call to action.
MOBILE OPTIMISED RESPONSIVE WEBSITES
All of the websites that we build at Fuel Group are responsive mobile optimised. This means that it doesn't matter what type of device someone uses to view your website, it will resize and align itself so that it fits on the page and looks great. Google now give priority to websites that are mobile optimised when people search on mobile devices. You will want to make sure that your new website is a mobile optimised responsive website. If it isn't you will find yourself losing valuable traffic and potential customers.
SEARCH ENGINE OPTIMISED
We use the best SEO plugin available for wordpress websites, Yoasts SEO plugin. Do a Google search on it, it is the most widely recommended and used SEO plugin for WordPress. We also use best practices so that what is known as "on page SEO" is correct. Your website will have all the correct metadata and alt tags throughout. This ensures your website has the best possible chance of ranking well on search engines like Google and Bing.
GOOGLE SERVICES INTEGRATION
All of our websites come with full Google integration. We will link your website to the following Google services. Google Analytics, Google Tag Manager, Google Webmaster Tools, Google My Business and Google AdWords. These services will ensure that your website meets best practice guidelines set out by Google and give your business the best chance of being found on the internet.
SOCIAL MEDIA INTEGRATION
We can set up and link all the relevant social media accounts that you need. Whether it is Facebook, Twitter, Google+, Google My Business, LinkedIn, Pinterest, or Instagram. We have been playing with Social Media for years and can help you get the most out of it. Our websites also use one of the best social sharing tools available so you get detailed analytics of what is being shared. It is also highly customisable so your site will have a unique feel.
CONTENT MANAGEMENT SYSTEM
We exclusively use the WordPress platform as it is one of the easiest website management tools to use. We will provide you with tutorials and give you guidance on how to add pages, blog posts and more. If you would rather have someone else manage your site and upload new pages and blog posts, not a problem. We  can do that for you as well. We can even assist you with a content curation schedule so you have regular blog posts.
SECURITY AND BACKUPS
Just like your computer your website should have the relevant security measures in place and also be backed up regularly. We use the one of the best security plugins available for WordPress that incorporates 2 factor login. This minimises the chance that your website will be hacked. Your website will also be backed up once a week just incase anything does go wrong.
SUPPORT AND TRAINING
You will be provided with detailed tutorials on how to update your sites plugins, themes, core files, how to perform maintenance tasks and how to add additional content such as pages, blog posts, and images. Of course if you would prefer, we can handle all of the maintenance and content uploads for you. Either way you will be covered.
WEBSITE DOMAIN AND HOSTING
We will purchase your website domain on your behalf on an account we set up for you. This will ensure that you have access to your domain not matter what happens. Some website designers will charge you extra to move your domain name, we don't. Your website will also be hosted with one of Australia's most trusted web hosting companies.
STRATEGIC VISION
We don't just build websites. We will help you formulate a winning recipe that will help you get more new customers and help you grow your business. It isn't just about a website, it is about putting all the pieces together in such a way that your prospective customers see you as the only logical choice. You may find other providers that are cheaper, but will they create the same amount of value for you.
THE PROCESS OF GETTING A WEBSITE WITH FUEL GROUP
WEBSITES THAT PAY FOR THEMSELVES IN 1 TO 2 MONTHS
Yes, you read that correct. As long as you meet a certain criteria we can build a website that will get you enough business in the first 1 – 2 months that it will pay for itself.
There are conditions of course. You have to provide a good service, have a decent sales process and have not used Google AdWords before.
Once your website is live we will set up a Google AdWords account for you, free of charge. This will drive targeted traffic to your website. As long as you can close some of those leads and you have a service that charges a reasonable amount for your services there is a good chance we can do it for you.
Some industries that this would work for are plumbers, electricians, builders, dentists, accountants, veterinarians, mechanics, chiropractors, lawyers and other such professions. 
Or goal is to build you a website and put a marketing plan in place that helps you pay for the website in the first 1-2 months.
To find out more give us a call on 02 4306 0583 or click here to send through your details and we will get back to you as soon as we can.
GET A QUOTE
Fuel Group provides a website design and website development service to businesses throughout Sydney, the Central Coast and Newcastle.
If you would like to discuss a future project or you would like to get a quote for a website click the button below to go to our request a quote page or give us a call on 02 4306 0583.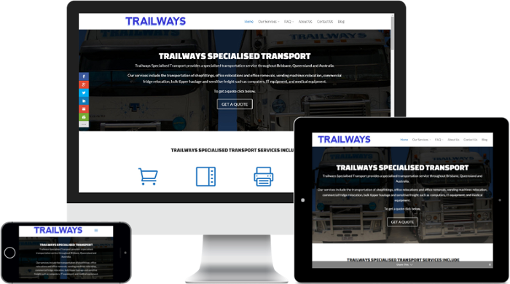 This website design project consisted of building a website for Trailways Specialised Transport. They also required copywriting services, and took advantage of our Google AdWords offer.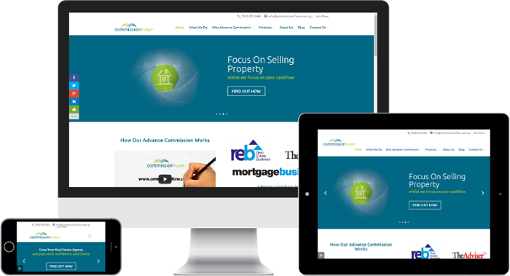 This project for Commission Flow required us to rebuild their website. Their past website designer didn't save any of the required files. This meant their website could not be updated. We rebuilt the website, updated and backed up all the required files, and set up Google AdWords for them.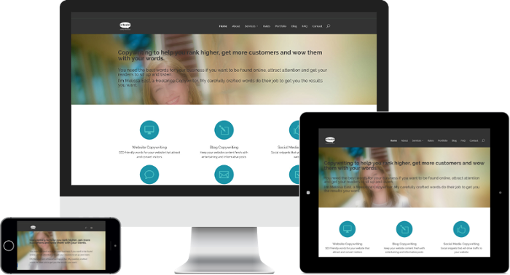 Writeable asked us to help them with some certain aspects of their website design. We helped them with on page SEO, user experience and user interface. They have had great results with their website.