TRAILWAYS WEBSITE PROJECT
An example of our website design and development work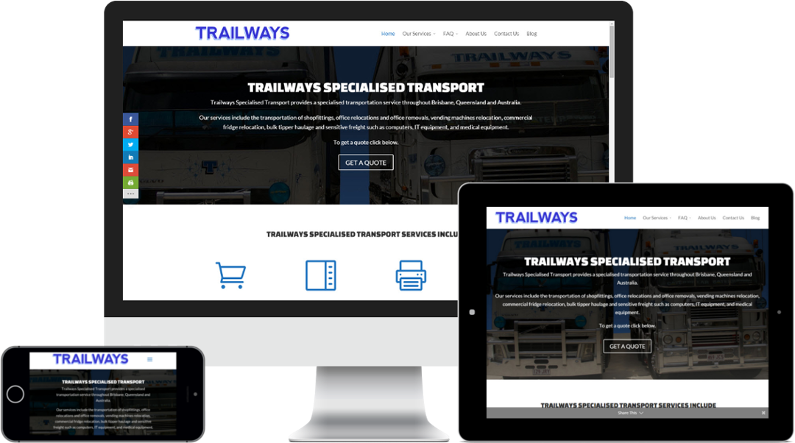 PROJECT: TRAILWAYS WEBSITE DESIGN PROJECT
The Trailways website design project required us to design and build the Trailways website from scratch.
We started off by completing the relevant competitor research to get a feel for the market and an understanding of what Trailways prospective clients were after.
From this we compiled a list of potential keywords and discussed them with Trailways to ensure they wanted to promote these services.
Through the research process we identified two new potential markets that Trailways could start targeting.
We then went about building the test site to make sure they were happy with the concept we had envisioned for them. Once they went over the test site, they had a few questions and asked for a couple of amendments to be made.
The amendments were completed, we transferred the website to their domain, and published the site.
Part of the project entailed signing Trailways up to some of the relevant social media sites. We set up their Google+ page, linked it to the website and had the Google+ page listed as a verified business.
The other Google services we linked and integrated included: Google Analytics, Google Webmaster Tools, Google Tag Manager, and Google AdWords. These Google services are integral to having a website that can be found and ranks well on Google.
We set up Google AdWords with a number of campaigns targeting their most profitable services. The goal we set out for ourselves was to get enough business for them in the first month to pay for their website. We are glad to say we achieved this for them.
Trailways have hired us to take care of their website backups, website security and website maintenance program for them as well.
Website design and development
Copywriting
Photoshop
Logo Design
Google accounts linking
Google+ page
Google AdWords set up
Social Media
WHAT TRAILWAYS HAD TO SAY ABOUT US
We hired Fuel Group to build a website and promote it online for us.
They got the job done quickly, efficiently and on budget.
The best thing of all is that we have had enough jobs come in from the website in the first month to pay for it.
We highly recommend their services and will be using them in the future for any marketing related jobs.
GOOGLE ADWORDS CAMPAIGNS SET UP
NEED SOME HELP WITH A FUTURE WEBSITE DESIGN PROJECT?
Are you thinking of getting a new website? Is your old one looking dated and doesn't meet Google's Mobile Responsive guidelines?
If you would like to receive the type of service we described above give us a call on 02 4306 0583 or click below to send through your details.
MORE EXAMPLES OF OUR WORK