CATALOGUE DISTRIBUTION SERVICES
Fuel Group's publication and catalogue distribution services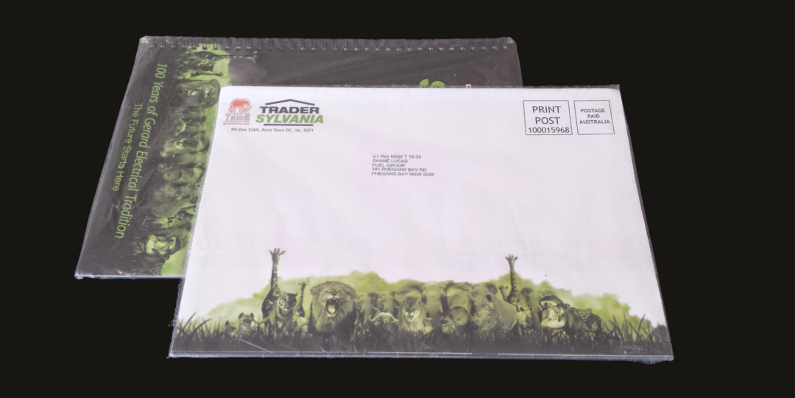 NEED A QUOTE?
Give us a call on 02 4306 0583 or click below to send through your details.
At Fuel Group our publication and catalogue distribution service can handle all of your publication distribution needs and can be your one stop shop.
We can print all of your catalogue distribution service materials such as catalogues, brochures, booklets, annual reports, magazines, inserts, and flysheets.
Once you have your materials printed we can process your database to ensure you get the best possible postage rates from Australia Post. We will advise as to what will be the most cost efficient way for you to lodge your mail out campaign.
We have the capabilities to plastic wrap your publications / catalogues and lodge them with Australia Post on either your Australia Post account or ours.
So whether you are sending catalogues, annual reports, magazines or any other publication we can help you get your job done on time and on budget.
Below are our mail house services that can help your publication and catalogue distribution campaign.
THE 1 QUESTION YOU NEED TO ASK BEFORE YOU HIRE A MAIL HOUSE TO DO A CATALOGUE DISTRIBUTION CAMPAIGN
Before you hire a mail house ask them this one question to see if they have your best interests in mind.
Who's Australia Post Account should you lodge your mail out on?
If it is a large scale mail out in 1000's and you do a lot of them you should have your own Australia Post account. Most mail houses put a small mark up on postage, nothing wrong with that as long as they are up front about it.
But we have seen times where clients have been urged and advised to lodge their direct mail campaign on the mail house's Australia Post account so the mail house can put a mark up on postage.
If it only a small mail out of say 500 and under it will only account to a saving of around $50.00. But if you are mailing out thousands of direct mail pieces the savings can be in the thousands of dollars. We recently saved a client $3000.00 on postage on one mail out by advising them to use their own account.
5 THINGS YOU NEED TO KNOW BEFORE YOU HIRE A MAIL HOUSE FOR CATALOGUE DISTRIBUTION
If you are plastic wrapping your publication/catalogue distribution campaign; have you ever tried including an extra insert to promote one of your products or services. An insert is simply an extra piece of paper that is inserted into the mail pack. It won't cost much more to have an extra sheet printed and it can help you increase the profit of your mail outs.
If you are supplying your own printed material always allow for overs. It will be a big disappointment if you don't allow for overs and don't get to do the mail out to all the people on your database.
If you are mailing out a catalogue or brochure include a special offer or one of your best-selling products / services on the back page of your catalogue or brochure. This can help increase readership and increase your return on investment.
Give yourself time. When you get a quote from your mail house ask up front how long it will take them to process the mail out. If you are getting catalogues, brochures, annual reports printed allow yourself enough time to get the artwork proofing done. Depending on the size of your publication, how many are being printed and what is being mailed out; it can take longer than what you anticipated. You may also have to allow time for your printer to transport your printed material to your mail house.
When we do large-scale mail outs for our clients we put together a schedule so all parties know what is involved. This way there are no delays to the job. It can be heartbreaking when you are running a time sensitive mail out that lodges late. If you would like to know what is involved in getting a mail out done check out our "The Mail Out Process" page here.
NEED A QUOTE FOR A CATALOGUE MAIL OUT?
Do you need to mail out catalogues, magazines, brochures or any other type of booklet?
If you would like to get a quote for a catalogue distribution service or for any other type of mail house services you can give us a call on 02 4306 0583 or click the button below to go to our request a quote page. Just send through your details and we will get back to you as soon as we can.
OUR WORK